9 best VTuber Software [All in one, Live Stream, and Avatar]
In 2023, the trend of virtual YouTubers (VTubers) continues to grow in popularity.
You can create 2D and 3D content using life-like or anime virtual avatars to create videos, live streams, and other digital content without having to show your real face.
Many people associate VTubers with anime or video game culture, but the reality is that being a VTuber is more than just a hobby for enthusiasts.
In fact, it has become a lucrative way for companies to do marketing, advertising, and training.
Businesses are actively hiring VTubers for virtual product launches to online live-streaming events that are fun and entertaining.
Keep reading about the 9 best VTuber software to try that can help you harness the power of this exciting new virtual world.
I'm reader-supported. I may earn an affiliate commission when you buy through links on my site. This site is not intended to provide financial advice and is for entertainment only. You can read my affiliate disclosure in our privacy policy.
What is the best VTuber Software?
Try some of the best VTuber software listed here so that you can stand out as a business or thrive as a professional live streamer with your favorite avatars.
Here are my top picks for the best VTuber Software 2023.
Best For Business and Pro VTubers

Full-HD quality video, split audio tracks
for each participant, 30+ live feeds.

Claim $10 credit off your first month.
Best for Monetizing Owned Content

Earn from live stream and pre-recorded
videos with gated content.

Start now with a 14-day free trial
Best VTuber Software
for Work and Play

Broadcast streams from multiple
video and audio sources
with a pro feel.

Get 10% Off with the discount code:
X2Marc

Best for:
Content creators, businesses, and professional VTuber

Restream lets you create and multi-stream live video to over 30 destinations to reach your audience no matter what platform they prefer to use.
8,000,000 broadcasts are delivered every month
600,000,000 viewers are engaged every month
Millions of customers from around the world use Restream to reach, engage, and monetize their audiences.
Restream has users from Fortune 500 companies such as Netflix, Adobe, Forbes, Mercedes Benz, and Discord.

Pro and amateur gamers, media, politicians, and even celebrities use Restream too.
Key Features:
Restream is perfect for everyday IRL streaming, live events, professional keynote broadcasting, marketing, and sales presentations.
Reach a larger audience by streaming to multiple platforms at the same time.
Upload and stream your recorded videos live so you can go and do other important things.
Multi-chat lets you read and reply to messages from multiple streaming platforms on one screen.
Review multiple platform live stream performances from one analytics dashboard.
Live stream on YouTube and Facebook at the same time and see the chat's all in one place.
Live stream Zoom meetings to other platforms like Facebook, LinkedIn, etc.
Send messages like "Don't forget to subscribe" automatically every 30 minutes using a chatbot.
Stream recording – download past live stream episodes for future reference.

User Experience:

Pricing:

Restream has three pricing plans:
Basic $0 (free forever)
Standard $16 per month ($190 yearly)
Professional $41 per month ($490 yearly)
Sign up here to get a $10 credit towards your first month.
My Research on Restream Reviews

The Good:
"Restream is huge value if you're doing content & video marketing."
"It's an incredible tool for the modern streamer."
High-quality browser-based streaming
Change all stream titles at the same time.
"The ability to stream to multiple platforms using one bandwidth stream and such low latency is a feature that I feel quite lucky to enjoy for free."
"So many features are useful to my brand."
"We use Restream on a weekly basis."
"Quality of guest interviews on video is excellent and looks very professional."
Seamless integration with OBS
Setting up, switching, and publishing streams is a breeze, making much less work.
"I can share my designs and games with the people I love around the world because Restream exists."
The Bad:
A link is added to the description "powered by Restream.io" and needs to be edited manually after going live.
It could use more audiovisual realization advanced features
Streaming to 3 channels at once will force an upgrade from a standard to a professional plan.
An HTML5-embedded player/chatbox would be nice to have.
Start using Restream today and get $10 off your first month.
XSplit is a live streaming and recording management software that helps people produce and stream webinars, social feeds, live events, presentations, and more.
XSplit can be used for game streaming, but two years ago, they created a separate company called Gamecaster to better serve the needs of pro gamers and esports players.
Join 15 million other people who work smarter with video using XSplit's suite of video tools.
Key Features:
XSplit has a wide range of tools for streamers to customize and optimize the broadcasting experience.
Create custom transitions, add multiple animations, and broadcast effects across screens.
Preview scenes, switch scenes, and adjust audio levels across many streams.
Change the shape of any camera or media source from one interface.
Use the gamepad visualizer, whiteboard, audio mixer, and replay plugins for maximum live streaming experiences.
Show off sponsors and supporters with multiple images and videos on BRB screen slideshows.
XSplit API is compatible with YouTube, Zoom, Discord, LinkedIn, Twitch, Google Meet, Microsoft Teams, Skype, and Facebook.
UI has a full dark theme to rest your eyes.
Virtual camera upgrade lets you do a preview of every single camera source at the same time
Updated text sources
Brand new audio system that's ideal for i.e. podcasters with a lot of inputs and outputs at the same time.
Unlimited Scene Presets
User Experience:

Pricing:

XSplit offers 3 pricing plans (monthly, yearly, and a lifetime deal):
Monthly
VCam Premium: $4 per month (normally $8)
Broadcaster Premium: $7.50 per month (normally $15)
Premium Bundle: $10 per month(normally $20)

Yearly
VCam Premium: $15 per year (normally $30)
Broadcaster Premium: $30 per year (normally $60)
Premium Bundle: $35 per year (normally $70)

Lifetime
VCam Premium: $30 one-time (normally $60)
Broadcaster Premium: $100 one-time (normally $200)
Premium Bundle: $115 one-time (normally $230)
If I were you, I'd grab this lifetime deal because you can't beat it!
My Research on XSplit Reviews

The Good:
Excellent for businesses that do a lot of live presentations
Affordable for new streamers on a tight budget
Easy to use and install
The V-cam feature is cool, and not having to use extra software for multistreaming is helpful.
The software is lightweight and stable, which is needed for pro streaming.
XSplit is OK for streaming but performs much better for trailer production video recording.
The Bad:
No dedicated mobile app, but it can be used with an Internet browser.
Many of the reviews aren't recent ones from this year.
Streaming features and overlay features lack some of the customization options you might need
Not the best streaming option for gamers who don't want a slowdown in fast-paced games
Start XSplit for free today.

Best for:
Anyone new to virtual streaming

Live3D, aka VTube Studio, is the #1 Vtuber software suite that serves over 1 million VTubers, streamers, YouTubers, and artists across the globe.
Live3D has two animation software subbrands:
VTuber Maker combines real-time body movements with virtual scenes in an interactive live broadcast.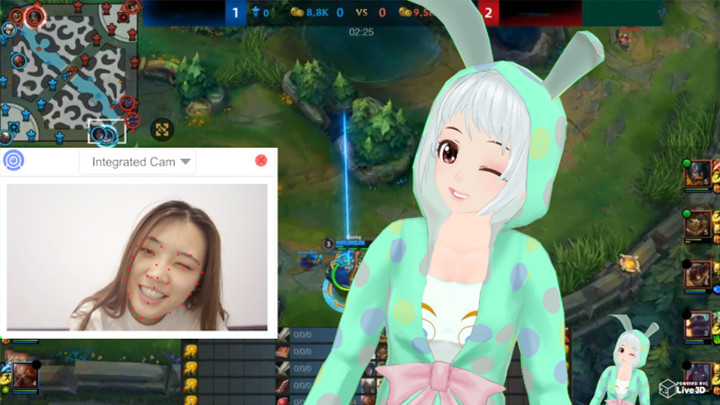 VTuber Editor gives you the ability to change any designs with your character or the scenes.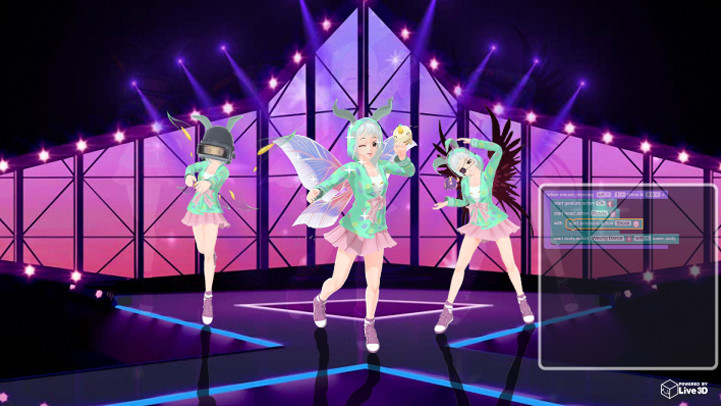 Key Features:
Personalize your 3D avatar's hairstyle, clothing, and accessories so that it closely matches your online persona.
Your avatar can mimic your physical movements in real-time to let your virtual persona shine through.
Creative VTuber interactive effects
High resolution, high VTuber live streaming quality
Connect Live3D with popular software such as OBS and XSplit to broadcast your virtual self to the public in just a few clicks.
Record virtual videos for platforms like YouTube
Import your own one-of-a-kind character so it looks exactly how you imagined it.
Easily switch between various camera angles to add depth to your VTuber persona while keeping your audience entertained.
Face tracking and hand tracking software lets your avatar to wave, smile, frown, laugh, wink, and blink whenever you do.
Realistic lip-syncing with advanced voice recognition to further humanize your virtual persona.
Twitch extension allows viewers to change virtual effects, animations, facial stickers, and props and choose the most popular avatars during the stream.
AI Anime Art and Waifu Generators
User Experience:
Pricing:
LIve3D has 4 suite plans.

Free plan – $0 (entry level with watermark)
Lite Suite – $3.90 per month (improved streaming)
Plus Suite – $16.90 per month (most value)
Pro Suite – $99.90 per month (for advanced teams)
My Research on Live3D reviews

The Good:
Perfect for people who are camera shy because they will use an anime character
If you don't have your own avatar, make your own with plenty of models and assets to choose from.
Superb body motion capture capabilities
Realistic facial expressions
Edit your own character and Live2D scenes with accessories and picture assets.
Choose from several anime poses in the VTuber Gallery.
Twitch streamers can earn bits to increase their revenue.
VTuber resources are updated weekly.
Lots of VTuber tools
The Bad:
The Unity packages to import custom VTuber models don't always work correctly.
Not many reviews on them.
Start using Live3D today.
Best for:
Creating VTuber avatars and characters
Fotor's AI VTuber Maker software helps you create VTuber assets in minutes.
Key Features:
Enter descriptions to make Vtuber assets that attract attention to your streaming channels.
Generate 2D VTuber and 3D VTuber assets based on your description of the avatars, characters, and backgrounds.
Generate avatars as Twitch PFPs, or make your own gaming avatars for VTubing.
Make full-body VTuber characters based on gender, age, hairstyle, outfits, and more.
Create the VTuber characters from your own anime or cartoon images.
Make VTuber backgrounds styled in anime art, 3D model graphics, cyberpunk themes, and more.
A new Vtuber can get a quick and inexpensive start with creating their persona.

User Experience:
Pricing:
Fotor offers two pricing plans:
Buy 100 AI Credits and Fotor Pro
$2.66 per month

Buy 200 AI Credits Only
$2.99 per month
My Research on Fotor Reviews

The Good:
One of the top VTuber avatar makers this year
Don't pay for expensive VTuber model creators.
Use VTuber assets generated by AI to attract more followers and subscriptions.
Generous credits for the price
The Bad:
It's not connected to any streaming platform, so you'll have to find a platform that allows you to upload your own assets, like Live3D.
Start using Fotor today.
Best for:
Content creators, streamers, and gamers
Lightstream Studio is a way to do live streaming from your console or computer with cloud and browser-based software.
Key Features:
Go live in minutes – just signup and click "go-live."
Create unlimited projects, scenes, and layouts for your shows — place everything where you want it.
Engage your audience with on-stream alerts, motion graphics, and social media messaging that drive action and participation.
Use your mobile device as a remote control to start and stop your stream or switch between scenes.
Console gamers can send their gameplay to Lightstream and add overlays, alerts, and more for a fully produced live stream.
Talk shows and podcasters can invite guests via a link. There's a waiting room in case you're not ready to let them in your stream yet.
IRL and travelers can keep streaming live even if they lose a signal.
Musicians can use high-fidelity audio capture to sound their best.
User Experience:
Pricing:
Lightstream Studio offers three pricing plans:

Gamer:
$7 per month (720p 30FPS)
$11 per month (720p 60FPS)
$14 per month (1080p 30FPS)

Creator:
$20 per month (720p 30FPS)
$25 per month (720p 60FPS)
$40 per month (1080p 30FPS)
My Research on LightStream Reviews

The Good:
"I love how easy it is to stream from a console with the quality of the top steamers!"
Send images directly from Xbox to your Lightstream account.
A solid solution for streamers with low-end PCs or Macbooks
Tons of effects to choose from for an enhanced experience
Easily set up effects to your Twitch event.
The Bad:
It can be difficult to learn at first
Hard to integrate streaming with all the platforms
Sound quality buffer.
Sometimes the background is not properly blurred or can't detect motion in the video properly.
With high FPS, it lags a little bit.
Sometimes gets disconnected from the cloud server.
Try Lightstream Studio for free today.
Best for:
Social VR
VRchat is made up of more than 25,000+ social VR worlds created by the community. It provides new VR experiences and gives you the freedom to design your own experiences too.
Key Features:
Play on Steam, Quest, Rift, or Viveport
Make friends, create worlds, and custom avatars
Interact with people and overcome social anxiety
Express yourself
Build worlds and invite people to play and have fun
Play games like capture the flag, and battle discs
Full body avatars with lip sync, eye tracking/blinking, and full range of motion tracking.
Weekly official and community events
User Experience:
Pricing:
VRchat Plus purchases can be made through Steam and MetaQuest. Otherwise, it's generally free.
My Research on VRchat Reviews

The Good:
You don't need VR gear to play.
It's an anime-inspired and social media-influenced platform.
It could be a cool place to join co-workers for a meeting.
Play games and socialize with people all over the world.
The Bad:
Not appropriate for children
They don't accept valid criticism about their platform and then ban people after.
Some people say they don't care about their community and only care about the investors.
Try VRchat for free today.
Best for:
Streamers, YouTubers, VTubers, Artists, and Creatives
Animaze provides a AAA quality platform to create interactive avatars for entertaining audiences all over the world.
Key Features:
Animaze editor can turn your Live2D, VRM, and Ready Player Me models into avatars, props, and backgrounds.
Compatible with other streaming tech such as OBS, SplitCamera, StreamLabs, and SteamDeck.
Trackers such as leap motion, audio-based lip trackers, Tobii eye trackers, and other movement tracking.
Take your avatar wherever you go
– Use it with OBS, SLOBS, Discord, Zoom, Google Meet, Facebook Gaming, and more
– Stream on Twitch, Discord, YouTube, and Facebook Gaming
– Post videos on all socials like TikTok and Instagram
Unlimited customization – choose virtual characters like animals, objects, and human avatars, then add props, backgrounds, and emotes.
User Experience:
Pricing:
Animaze has 3 plans each for individuals, businesses, and enterprise users.
Individuals
Free: $0
Plus: $3.99 per month ($47.88 per year)
Pro: $9.99 per month ($119.88 per year)

Businesses
Small Business: $139.99 per quarter ($499.99)
Business Plus: $499.99 per quarter (normally $1,699.99)

Enterprise
Contact for custom pricing
My Research on Animaze Reviews

The Good:
Ideal for someone trying to become a VTuber
"Great for streaming because you can crop out the overlay picture thing on premium characters"
The Bad:
Many VTuber don't like this streaming software
"Download on Steam was free but then charged $19.99 for a service."
Steam users complain the Animaze billing practices are very questionable with "bait and switch."
"Kept charging me even after I canceled my subscription and claimed they couldn't process a refund."
Try Animaze for free today.
Best for:
Streamers
OBS Studio is free to use open-source software for live streaming and video recording.
Key Features:
Capture audio, video, gaming, displays, texts, and more.
Download and start streaming quickly and easily on Windows, Mac, or Linux.
Noise-free recording
Wide range of plugins like chat overlays, audio filters, and custom transitions
Stream labs and virtual cam
Screen voice recording is an alternative to Loom.
Video capture with slides, webcam, and audio.
Include PowerPoint slides, logos, and more.
User Experience:
Pricing:
OBS Studio is completely available for free.
Free software: $0
My Research on OBS Studio Reviews

The Good:
Stream any pre-recorded content live for free.
Improve your Twitch, YouTube, and Facebook video views.
"Excellent software for screen recording and screen capturing"
Can compress video into smaller file sizes
The Bad:
Doesn't always work with graphic card drivers
It doesn't stream clearly unless you use 10 FPS.
You might have to use rendering software alongside it.
The steep learning curve, especially in understanding hardware requirements
Resource intensive when streaming or recording at high resolutions or frame rates
Try OBS Studio for free today.
Best for:
Content creators, personal brands, online sellers, live shopping, and live event organizers
Switcher Studio is a complete video platform to create, share, and monetize video content from your own website.
Key Features:
Monetize video content how you want
Upload playlists or live streams to your website.
Record, stream, or multistream pro-quality video from your iPhone or iPad.
Host interactive videos on your site and charge access for gated content.
Sell Shopify products direct in videos.
Include any links or QR codes to donate, blogs, and social media.
Produce a video with any HDMI or SDI camera.
Live chat, event schedule, and audience engagement
Customizable branding
Social media integration and streaming
Video editing and management
Up to 9 video sources
Live video chat for up to 5 guests
SwitcherCast, available for Windows/Mac apps, transmits the screen as a camera source to Switcher.
Learn more about Stitcher's Features
User Experience:
Pricing:
Switcher Studio offers three plan options:

Business: $99 per month or $948 per year (save $95)
Business+: $299 per month or $2294 per year (save $1,294)
Enterprise: Contact for advanced and custom team options

My Research on Switcher Studio Reviews

The Good:
"Great for corporate use, houses of worship, sports, and any live event."
"Members are coming back to watch any sermon they might have missed"
Utilize outputs from iPhone, iMac, PC, and remote people to integrate weekly Facebook lives.
"My views went up 10X after using Switcher, and the video quality is amazing!"
The Bad:
No instant replay for sports yet
No green screen/chroma key yet
No animated lower 3rds
More than two chat guests require an upgrade.
Higher end router is needed to handle multi-camera wireless video switching.
Can't use a webcam from your PC.
Unable to save scenes
Try Switcher Studio for a 14-day free trial.
5 Ways VR Can Take Marketing to The Next Level
VTuber Software FAQs
What is the best way to make a vTuber Avatar?
There are a lot of great options for making a VTuber Avatar, but I'd choose either VRoid studio, Live2D, or Unity.

If you don't want to create anything yourself, you can hop on a freelancer site like Fiverr and pay to have someone to help bring your avatar design ideas become reality.
What are The top three vTuber software?
Based on reviews, the best VTuber software in 2023 are:

Final thoughts
VTubers are totally taking over the content creation world by opening up new possibilities for businesses and people to communicate with each other.
And you don't gotta be a nerd to get in on the action.
Just use VTuber software that I've recommended.
You can create your virtual avatar in no time and start interacting with your audience in all sorts of cool and creative imaginable ways.
Or you can just be yourself!
Whether you're trying to promote a new product or just want to hang out with your fans, VTubing software is the way to go.
So feel free to try some VTuber software and see where it takes you next!